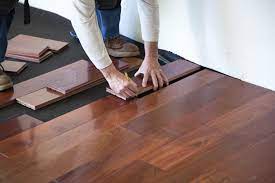 Are you unsure how to tell the difference between hardwood and laminate flooring? We have compiled a guide to help you make the right choice.
It cannot be easy to choose the right wooden floor for your home's interior. We make the selection process much easier for you because we know that making the wrong decision can be costly.
This is our guide to wood flooring, with a few tips and tricks for installing them.
There are two types of wood flooring: Hardwood is made by milling solid timber and can be purchased in both unfinished or stained options.
Tip You can choose the color to stain it by buying it unfinished. Prefinished versions are easier to install and save time.
Engineered Hardwood: Layered hardwood with a plywood backing and a medium-density fiberboard backing
Tip Because it mimics wood's natural movement, it is extremely stable and well-suited for high-moisture environments.
Bamboo: Bamboo fibers are compressed under extreme heat and pressure to make this flooring option. It is twice as tough as oak.
Tip This is a very sustainable option and also makes it very durable.
Laminate This laminate is popular because it is easy to install and maintain and withstand almost any environment.
Tip It resists staining, scratches, and fading. Available in high gloss, distressed and hand-scraped textures.
Vinyl Plank: These planks are ideal for high-moisture areas like bathrooms and kitchens. They look just like tiles or wood. They are extremely durable and feel great underfoot.
Tip It is easy to install, as it comes in a simple peel and sticks or click-together format.
Wood-look Tile: These tiles are as beautiful as wood and as practical and useful as tiles. They make smart choices for the bathroom and kitchen.
Tip – Makes an amazing kitchen backsplash.
Cork flooring is made by removing the bark from the tree and leaving behind a protective layer that allows the tree to grow again. Cork floors are soundproofing, natural cushioning, and excellent heat insulation.
Tip This flooring is great for quieting your conscience and calming your home.
Brands to watch out for:
Pergo is very popular and offers a variety of options. GreenLam's Mikasa also has a beautiful range. Squarefoot, one of India's oldest wood flooring companies, offers LEED-certified eco-friendly options.
Do's and don'ts in the installation:
Before you start to install the flooring, plan well. If you choose a flooring option that reacts to moisture, leave a half-inch gap between the floor and the wall. You can conceal this with base molding.
Always order 10% more material than you estimate. On average, there are approximately 7% to 10% wasted areas due to cuts, planks damaged during installation or courtesy measuring errors.
* Lay the floor from the wall to the floor, starting on the longest side.
* Use an underlayment product for hardwood, laminate, bamboo, and vinyl flooring to dampen sound, protect against moisture, and provide thermal insulation. They are easy to install and come in three to five feet wide rolls. These can be used in floating, glue-down, or nail-down installations.