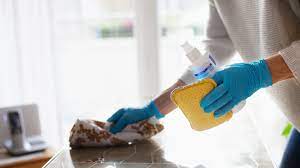 There are many ways to clean your home faster, more easily, and naturally if you want a cleaner home. Although you may have learned a lot from your parents about housekeeping, there are always new ways to make your home look better. These are nine smarter methods to clean your house on a weekly or daily basis.
1. Reduce the clutter in your home
One of the most important houses cleaning tips is getting rid of clutter. It is possible to spend many hours each week cleaning out small appliances and canisters from your kitchen counters. You will need to clean the surfaces of small devices and cookie jars to wash them or dust them. Food particles, flying grease, or other food particles can also make these items look dirty. To make your cleaning process faster, you should eliminate all clutter in your home.
2. Make your cleaning supplies
You don't have to worry about toxic chemicals in store-bought cleaners. Instead, make your own with products you can find in the supermarket. Spray bottles can be purchased to make your window cleaner. Fill them with white vinegar and water. Instead of throwing away paper towels, use soft cloths which are easy to wash and dry. You can use baking soda to clean stains on your kitchen counters. Then spray the area with white vinegar.
3. Cleanse a room in a certain pattern
Don't waste time cleaning by walking from one end of the room to another. Start cleaning from the top and work your way down. This will allow you to only vacuum the carpet once, as dust filters from the ceiling to the floor. To dispose of any unwanted items, bring a trash bag with you when you clean.
4. To transport your cleaning supplies, use a bag
Professional home cleaners provide totes to store the cleaners. This allows them to have all the necessary items for cleaning a surface. To make it easier to clean sticky surfaces or dirty switches plates, keep your homemade cleaners, cleaning products and other things in a plastic bag. Make sure you mix your cleaners before storing them in a cabinet that a child cannot access. This will make it easier to clean surfaces throughout the week.
5. Make your homemade cleaners with essential oils
You can make your home smell fresh by adding essential oils to your homemade cleaners. Essential oils can be found at fabric shops and hobby stores. Many scents are available, such as lavender for the bedroom or citrus orange for your kitchen. Essential oils known to kill bacteria such as peppermint and cinnamon can be used. You can also add essential oils to the water you use to mop the floors to make your home smell wonderful.
6. The Bathroom is the most important thing
It is much easier to clean the bathroom after removing all clutter. Start at the top by cleaning the bathtub walls of any mold or soap scum. Next, use your homemade cleaner to clean the sink, faucet, and countertop. After spraying the vinegar mixture on the tank and toilet seat, wipe it clean with a damp cloth. To clean the toilet bowl, you can add baking soda or vinegar. Then scrub it with a brush.
7. How to Vacuum Quickly
A high-efficiency particulate filter is required if you need to vacuum a room quickly. You don't have to clean every week if your home is not heavily walked in. Vacuum only the areas closest to the doors and in the middle of the room where people are likely to walk. When vacuuming the dining area, you should pay attention to the areas under the table and chairs. You should clean under the sofas and beds a few times per year.
8. Mop Floors that Work Efficiently
It doesn't take long to mop your floors. To scrub floors without carpets, you will need a bucket to fill with sudsy water. Take the rugs out and shake them. Then, quickly mop the floors in both directions to get rid of dirt. To avoid streaks, you can rinse the floor with warm water if it is very dirty. Ensure the area is well ventilated to ensure that the floors dry quickly.
9. Hiring a professional home cleaning service
A professional cleaning service is available if you cannot clean your home because of a hectic schedule. Today, cleaning companies can use natural cleaners that don't leave harmful residue or create an unpleasant odor. Cleaning companies often conduct background checks on employees, so you don't have to be there.