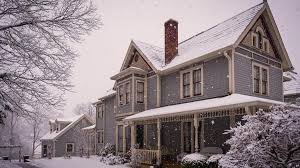 While we obsess about spring cleaning after the winter season to get rid of germs and dust, it's equally important to clean your house before winter comes. You don't want your house to be dirty for months. You don't want snow and winter winds to find their way into your house, so it is important to learn how to winterize your house from both the inside and outside.
How to winterize your home for maximum comfort and lower utility bills
There are many ways to winterize your home. These include cleaning out garbage cans and weatherproofing windows. These fall cleaning and maintenance tasks will ensure that you have a warm home throughout winter.
How to Winterize Your House from the Inside
Disinfect and Wash Your Garbage Cans
Sticky, gunky leftovers always seem to get between the can liner and the can, ending at the bottom or "no man's land" since no one wants it cleaned out. Use the garden hose to clean out the insides. Take advantage of the mild fall days. Spray on an antibacterial cleaner or mix distilled vinegar with water to disinfect the surfaces. Let it sit for at least an hour. After cleaning, scrub off any traces of dirt and then dry the surface.
Vacuum Your Furniture's Underside
Although we make sure to clean the cushions' tops and bottoms, we neglect to clean the furniture's underside. This is a shame, as dust and hairballs can live there for many years. To get rid of these irritating air pollutants, flip your couch or chair around.
Clear Out-of-Sight Areas
The things within our field of vision are cleaned most often. The tops of doors, windows and cabinets collect as much dust as end tables and coffee tables. The same applies to lower-down areas, such as baseboards or stair railings.
Clear Behind the Refrigerator
To make your refrigerator run more efficiently, it is important to clean the coils. Before using a vacuum attachment or brush to clean the coils and back of your refrigerator, unplug it. Clean the refrigerator inside if it has been a while.
Make your Entryway a Winter Barrier
If they cannot get through the door, dirt, snow, slush and rain can't enter your house. You should have enough rugs to cover the front and back of your main entryway doors. A good-quality fiber mat is durable outside and a washable rug inside. Add a bench or basket to your home's entryway so that your family can clean up their mess as soon as they come in.
Clean your Windows
This winter, you'll be trapped inside, so it's important to have a clear view. Use a vinegar/water/dish detergent mixture to clean windows outside and inside. Use newspaper to clean windows. The extra sunlight in January will be a great benefit!
Replace your HVAC Filter
This is the easiest task on the list but the most important. A worn filter won't trap dirt and dust, so your furnace will have to work harder to move warm air through. Every season, make sure you replace your filter.
How to Winterize an Outside House
Clean Your Gutters
It doesn't matter if you hire someone to do it; clearing your gutters before winter arrives is a great idea. The good gutter flow will prevent snow and frozen water accumulation, which can cause damage to shingles or eaves.
While you are up there, check your shingles for damage or missing pieces. Also, make sure there isn't any debris under the last layer of shingles that hangs over the gutter. Check that your chimney is secure.
Seal your Windows and Doors
Double-pane windows may still allow arctic air to enter your home, even if they are double-paned. Make sure to check the trim where it meets the wall. Also, caulk any cracks or openings. Single-pane windows with storm windows can be a great way to winterize your home. Make sure to check every window to make sure they are shut.
Seal any cracks or holes in the exterior door trim at the junction of the door frame and wall. Weatherstripping and door sweeps should be installed if there are significant cracks or gaps between the door frame and the door.
Schedule an HVAC Inspection
It is a good idea to change your HVAC filter inside. However, HVAC systems require regular maintenance that is not easy to do yourself. A local HVAC company can provide an affordable HVAC inspection to help you identify potential problems and prevent them from getting worse. It is the last thing you want when it gets cold in January. Be proactive and keep your heat on all winter.