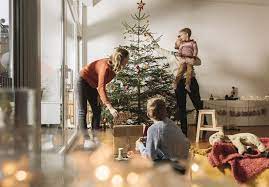 This article will help you take down your Christmas tree safely and effectively if you have a real tree. Those who venture into the forest or simply to the local tree lot! We love picking out our Christmas tree every season. To get in the holiday spirit, there's nothing like the scent of fresh evergreens in your home. Once you have placed your tree in the right spot, decorate it with ornaments and light, and the inevitable shedding will begin.
Although Christmas trees can be beautiful and festive, they are messy for tree cleanup. The biggest problem is pine needles. Once they begin shedding, they keep coming. Pine needles can embed themselves in the carpet and spread into every crevice and crack.
The Maids can clean your home for the holidays. But it is up to you how to manage the tree. Learn how to prolong the life of your Christmas tree and how to remove it without making a mess.
How to Clean up Christmas Trees Without Getting In Trouble
While we all enjoy decorating Christmas trees and admiring the unique decorations, no one likes to take them down. Each ornament must be carefully removed, the lights must be taken out, and the stand disassembled. All this while pine needles fall onto our floors. You can still wrap the holidays neatly and properly if you know how to remove the Christmas tree correctly. Here's how.
If you have one, remove the tree skirt and avoid scattering pine needles that may have fallen.
Place an old sheet under your Christmas tree.
To cushion falling ornaments, add a few towels.
To minimize ornaments falling, remove ornaments from the bottom of the Christmas tree. Prepare them for storage.
Wrap your lights in paper towels or cardboard pieces as you take them out of the tree.
Use a turkey baster to drain the water from the tree stand.
You can recruit a few helpers to lift the tree and remove the stand.
Take the sheet (towels included) and wrap it around the Christmas tree.
Before bringing the sheets and towels back in, shake them out.
You can also leave your Christmas tree at the curb for collection. Many communities offer tree pick-up services. However, double-check your local regulations if in doubt.
Even if you can remove a Christmas tree from the house without making a mess, there will always be some pine needles. You can remove them from hardwood floors by using this trick.
Check for ornament hooks and other debris before you start cleaning your final Christmas cleanup. Next, sprinkle baking soda on the rug or carpet. It will stick to the gummy pine Needles, making it easier to vacuum.
Simple Christmas Tree Cleaning requires a proactive approach.
Let us show you how to remove your Christmas tree quickly and without hassle. These Christmas tree tips will help you make your tree last longer and know how to remove a real Christmas tree without making a mess.
Avoid the old wives' tales if you want your Christmas tree to last longer and be less likely to fall during the holidays. You don't need to cut the tree at a specific angle; what to do to clean an artificial Christmas tree. You can count on The Maids to make your cleaning easy, whether you are doing it yourself or hiring us to clean up after you've finished. Learn more about our weekly maid service or holiday cleaning service.