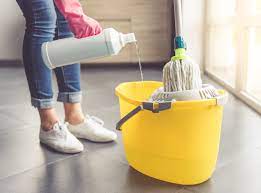 You may be interested in house cleaning as a career option.
The house cleaning industry is a stable and lucrative career that offers a secure future.
A housekeeping job offers flexibility and can be a fulfilling family or social obligation.
And from a health standpoint, working as a house cleaner means you get to keep your body moving instead of sitting at a desk all day which is Brandongaille reports that the industry for cleaning has seen an average growth of 6.6% each year over the past decade. Franchise Support also reports that the industry will grow by 10% by 2026. These statistics, along with the almost recession-proof status of the cleaning industry, prove that there are many house cleaning jobs now and in the future. How stable is the cleaning industry? Even in difficult times, the cleaning industry thrives, such as economic downturns and pandemics. While many Americans are reluctant to use residential services due to increased health concerns, these concerns have led to a rise in the demand for healthier and cleaner homes.
The trend of having cleaner, more organized, and healthier spaces at home and work was already gaining momentum long before the pandemic. These trends highlighted the mental and physical benefits of cleaning, decluttering and minimizing germs.
These health benefits are becoming more widely known. However, our time and ability to clean our homes are impacted by our increasingly busy lives. This has led to a greater demand for residential cleaning services and house cleaning, leading to more employment opportunities and better prospects for you.
It's easy to understand why house cleaning is so popular.
Green Products and Healthy Cleaning Processes are Leading the Way
The continued growth of the cleaning industry is also due to the increased emphasis on eco-friendly cleaning products and sustainable practices. People are becoming more aware of the negative effects of traditional cleaning products and chemicals.
Residential cleaning customers no longer need a sparkling clean home. Many people are not willing to accept the negative effects of traditional cleaning methods on their environment and family's health.
Customers today expect cleaners to use natural, eco-friendly and less harmful cleaning products.
A recent survey found that around 25% of respondents believed natural cleaning products were important. Consumers are becoming more concerned about their health and the environment and the dangers associated with traditional chemical cleaners.

Chemical cleaners can irritate the skin, cause respiratory problems, or even cause death.
Conventional cleaners use over 6 billion pounds worth of chemicals and 30 million trees.
Indoor air pollution is up to five-fold more harmful than outdoor pollution.
Children are most at risk from traditional housecleaning solutions.

There is a growing need for cleaners who use natural, safer cleaning products for domestic cleaning.
Why the Maids should be your first choice for house cleaning jobs
It is important to choose a company like The Maids when looking for house cleaners. They understand the importance of eco-friendly and safe cleaning. A house cleaning company with a track record and a sound business model is essential. There are also many growth opportunities.
What's the best part about it? There are more than 170 franchises in North America, and there are always new locations. The biggest perk is the opportunity to advance and work anywhere you like. We think there are many other benefits worth your attention.
Flexible, competitive pay
The Maids have the industry's best pay and benefits. There are many opportunities to increase your income via regular reviews and our incentive program, like our referral bonus.
The typical pay schedule is every other Friday. However, with the MaidPay app, you can modify that schedule to suit your needs. The Maids allow you to get paid whenever you need it, whether you need it every two weeks or daily.
Scheduling in the Real World
As professionals, we understand that a work-life balance is a critical need. The Maids provide flexible, full-time work hours with little to no weekend or evening work to enjoy the things you love.
Training and development
Because The Maids use proven methods like our 22-Step Cleaning Method, you can start a housecleaning job in your area without prior experience. We have over 40 years of experience cleaning houses in the U.S.A. and Canada and are uniquely qualified to teach the best house cleaning skills.