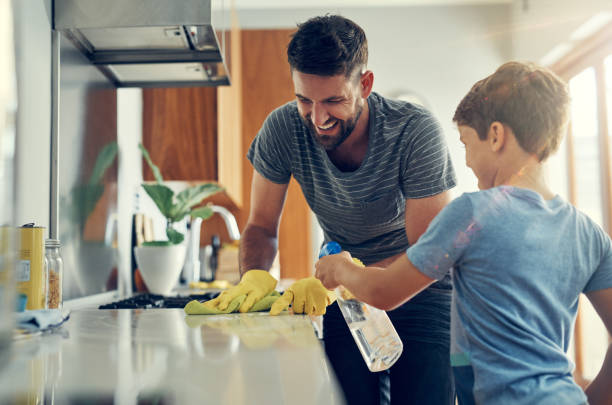 The aftermath of cooking can be quite messy, even though it is fun. This yellow ingredient is used in nearly every Indian cuisine. Unsightly yellow spots on kitchen counters or utensils can make cooking difficult. Simple kitchen ingredients like Baking Soda and Lemon have made great strides with their ability to withstand any cleaning emergency
Mix baking soda with water until it forms a paste. Let the paste dry on the patched areas for a few moments. Then rinse the area with warm water. After that, wipe it clean using a dry cloth.
Mix some vinegar or lemon juice in water. Apply the paste to the area and let it sit for a few minutes. Use a clean cloth to wipe it off. After a few minutes, if the strain is still not gone, you can use a steel wool scrubber to clean it.
Cleaning burnt stains from utensils:
Even though festive meals are delicious, burnt utensils can ruin a kitchen's appearance. Even with the best dishwashing soap, food stains can be difficult to remove from utensils that have been burned.
For about an hour, soak the utensil with warm lemon or vinegar.

Use baking soda to scrub the utensil in a circular motion for a few moments on the pan.

Wash the utensil with running water and wipe it clean using a dry cloth.

Cleaning agents can also be used with wine and aerated beverages.

Pour some red wine onto the pan and let it rest for a while. The black stains will slowly disappear.

 To make the black stains on your favorite cola disappear, leave it in the pan.

Check out these ironing tips for different types of clothing fabrics
Cleaning Gas Stove
When discussing cleaning hacks, no article would be complete without tips on deep cleaning gas burners. Nonmaintenance not only ages the appliance but could also create fire hazards.
To remove the initial layer of oil, wash all burners in lukewarm water with detergent.
 Spread a thick paste made of baking soda and water over all burners. Let it sit for between 20 and 25 minutes. Scrub the burners using a brush and rinse well to remove any food residue.
 Spray your burners with vinegar regularly and let it sit for 20 minutes. Use a clean cloth to remove any residue. This will cut through grease before it can become a hard mark.
Cleaning Microwave:
Amidst all the baking and cooking, we often forget to clean our kitchen time-saver. Yes! We are talking about Microwave Ovens. Fortunately, there's an easy way to clean this appliance.
Cut a lemon in half. Put the lemon in half a cup of water. Then, squeeze the lemon and add the lemon shells to the bowl. The bowl should be placed in the microwave for 3-4 minutes to bring the liquid to a boil. Let it stand for at least 5-6 minutes to allow the steam from the bowl to evaporate. This will help fade food stains. Remove the bowl from the microwave by opening the door. Take a clean, dry cloth and wipe the microwave. You can also use lemon water to clean any stubborn spots.
Cleaning and Sanitising Refrigerators:
The refrigerator is one of the kitchen's most used and visible appliances. Before cleaning the appliance, it is suggested to remove all foods and beverages from the refrigerator, which will create space and allow you to clean every nook and corner.
To remove stains, take out all drawers and shelves. Use warm water and dishwashing soap to clean all interior surfaces. Apply a mixture of baking soda and water to the area and then wipe it with a sponge or cloth. Avoid disinfectants when you have to deal with a fridge. They can make people sick.
Organizing the kitchen:
The kitchen can be a hard place to organize! Try to group all similar items closest to the area you will be using them. Keep dishes, glasses, and utensils close to the dishwasher for a quick and easy put away.
These days, "modern" is often synonymized with "stylish". This makes your kitchen more appealing and makes your life easier. This holiday season, give your kitchen a stylish makeover.
Bajaj offers a wide range of kitchen appliances that you can bring home. Bajaj's Multitasking Food Processor will speed up your food preparations and save space. Induction Cookers, OTGs, and stylish Microwaves will give your kitchen a modern look. A multifunctional Electric Kettle and a Blender are great options to help you get through hunger pangs.