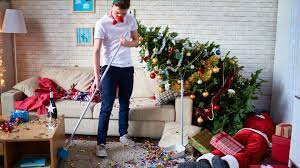 Many emotions can be triggered by the end of the holiday season. Most people feel one thing: the fear of cleaning up after their family and taking down all the decorations. It can seem overwhelming to clean up after Christmas, but it doesn't have to be overwhelming.
You might be asking yourself, "Where do you start?" These tips will help you stay organized. This blog post will provide these tips to help you clean up after the holidays.
Tips for Cleaning up After Christmas What You Wish You Knew Before
You should keep a "To Do" List. A list is the organization of your brain. The best projects are always started with a list. A list will help you stay on track, no matter how crazy you are about cleaning up after family gatherings. Before tackling the other Christmas cleaning tips, create a list and make sure it is written down.
Every year, place things in the same place, e.g., Christmas boxes under stairs. It is difficult enough to clean up after Christmas. It's not something you want to do next Christmas. It would be best to have a designated area in your basement, garage or storage.
Containers with lids are a better option. Containers with lids make it easier to put away decorations. This helps your decorations stay dry when they are stored, but it also makes it easy and doesn't require a lot of effort.
Donate or sell unwanted items before the cleanup day. Many of us have received gifts that we don't know what to do. You can either sell them online, keep them for next year, or donate them to your local charity.
Sort by size. You need to separate ornaments into small ornaments, medium-sized ornaments like big snowflakes, and larger items such as lights. It will make it easier to set up each holiday if they are separated during storage.
Avoid creating a mess with Christmas lights. Wrap the lights around empty tubes made from wrapping paper to prevent them from getting tangled. The cord should be looped around the roll starting on the opposite side of the plug. Next, insert the plug into the tube's opening. You can also use paper towels if you have already thrown out your gift-wrap tubs.
The tree should be put away. It's an important part of your living space during holidays, but it can also take up a lot of space when you clean it and put it away. Use a microfiber cloth to clean the branches of an artificial tree gently. Before storing the branches, let them dry completely. You can decorate with real trees by searching to locate a place that collects them for compost. It is a practical and eco-friendly option.
As needed, make sure to have extra bags/boxes/bins. You may run out of containers at some point, either because they broke last year or because Santa brought new ones this year. You can reuse the boxes your presents came in and grocery bags, and other storage containers that will help protect your decorations.
You can organize your gifts in a closet or another room. If you are like most people, you won't be able to put away all your Christmas presents immediately. It would be best if you stored them until you can sort them. Do a quick sweep after all decorations, gifts and boxes have been stored away.
Make sure you do a quick cleaning before New Year's Eve. Wipe down the kitchen counters and sweep/mop floors, if necessary. You'll keep your place looking amazing even if the company drops by during the first week of January.
The professionals are available. The floors and other surfaces have been cluttered with guests, cookies, snowboot prints, and stray pine needles.